User Stories: Gilbane Building Company
Updated: Feb 9
Inserting the very analog real world into modern, digital business processes is the challenge that gave birth to the GIS industry.
At Geopipe, we evolve traditional geospatial thinking by building an AI to create the authoritative whole-earth digital twin: data-rich, immersive 3D worlds for gaming, simulation, and architecture.
With valuable applicability for Geopipe across industries, we are introducing a "User Stories" series of blog posts to show how Geopipe saves users time and money, and makes existing 3D workflows smarter and more impactful. Today, we kick off our conversation with Rawle Sawh, Director of Virtual Design and Construction (VDC) at Gilbane Building Company.
Rawle, an experienced builder, uses Geopipe to help win new projects for Gilbane, a US $6 billion builder with more than 145 years of history.
What is Gilbane Building Company?
Gilbane is one of the largest privately-held family-owned construction and real-estate development firms in the industry. Gilbane Building Company is a global integrated construction and facility management services firm — the builder and developer of some of the most highly visible projects domestically and internationally.
What does Gilbane do?
Gilbane's collaborative team leverages technology solutions, high-level communications skills and innovative ideas to partner with clients during the building design phase.
What does the process look like to accomplish that?The pre-construction process includes cost estimating, procurement, scheduling, logistics planning, value management, Building Information Modeling (BIM), site safety planning, constructability reviews, and more. Part of this process is virtual design and construction, which is where Geopipe comes in. Virtual Design and Construction is a service that uses digital tools to create virtual models of buildings. These digital models are then evaluated before ground is even broken, allowing project teams to optimize the way a building is constructed. This advanced technology provides opportunities to greatly improve the construction process throughout the project's lifespan.
Where does Geopipe fit in that process?Gilbane uses Geopipe data to do project execution planning in a real-world context and to demonstrate a more complete understanding of how the project will unfold when bidding to the owner. This is most relevant in the pursuit phase of projects: the phase in which an owner/developer has selected a location and an architect to create the design. Then, they shop around for general contractors to build the project.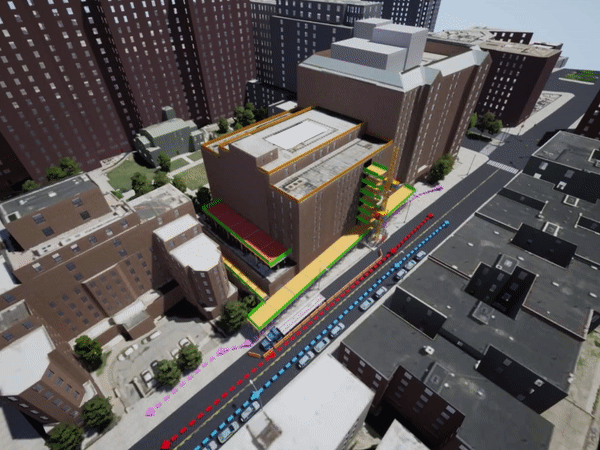 Gilbane plans and visualizes a project to add to an existing building, in the context of Geopipe's digital twin of New York City. Modeling by Devon Rutkowski.
What are the benefits of using Geopipe for that process?
Geopipe saves Gilbane time and money by eliminating the need to hire engineers to manually build the context. For example, general project phasing, site safety (e.g. scaffolding), laydown areas, and pedestrian considerations are understood with map-accuracy, and Gilbane's ability to understand and account for these considerations can be visually demonstrated to the owner. This can ultimately save Gilbane 25-40 hours of labor per project. At $100/billable hour, this is a savings of $2,500 to $4,000 dollars per project. Gilbane has used Geopipe in 8 or 9 projects, which means minimizing costs by $20,000 to $36,000.
How are the results different because Geopipe is used?
Having a detailed model and showing technical competence means winning the project, so having an automated, predictable way to get this information is invaluable to responding to requests for proposals. Ultimately, this makes Gilbane more attractive as a partner in the project, with minimal spend on the Gilbane side.
Who gets the most excited about Geopipe?
Project teams and owners are usually most excited by the data. It gives them the ability to visualize how the project will unfold.
Watch this space for more interviews with Geopipe users who have joined us in our mission: to automate understanding the characteristics of the physical world and democratize engagement with its virtual counterpart.
For the most up-to-date news on Geopipe, subscribe to our newsletter here. What story do you want to tell using Geopipe data? Can we help you import the real world into a simulation or game? Let us know!